Postcard

Printing Services
Online Postcard Program
Communicate to your clients with a consistent mail out program to your farm area.
Postcard Front



Simply update the areas indicated below on the back of your postcard shell.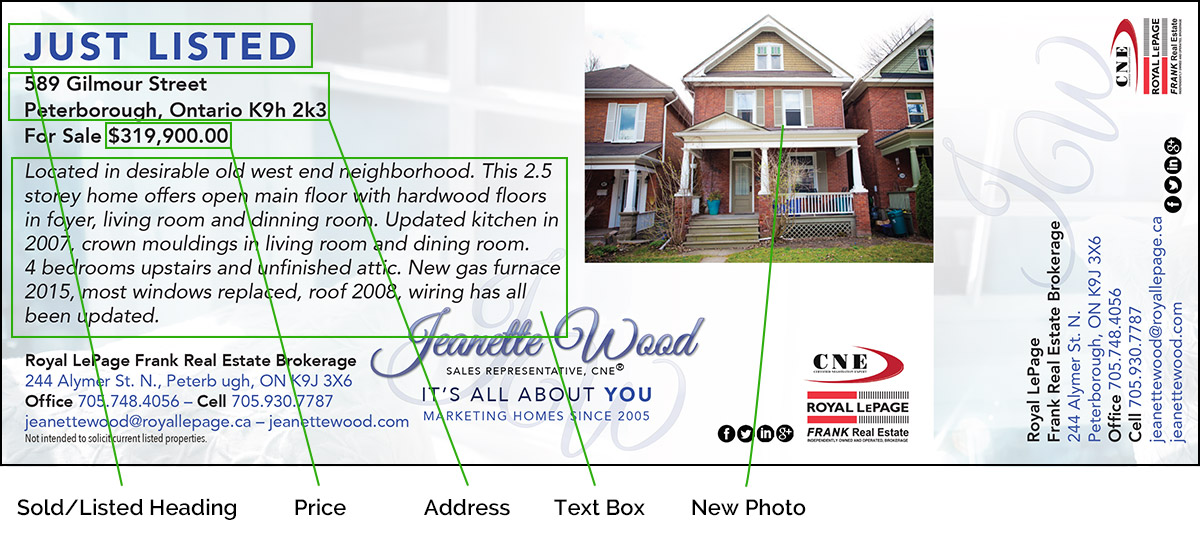 HOW IT WORKS
Purchase Postcard shells (see postcard printing prices)
The quantity depends on your monthly farming requirements – the average real estate agent purchases 20,000 to 30,000 postcard shells per year which we store in our warehouse for $ 25.00 a month storage fee.
Send us a Just Listed or Just Sold property and we will design the back for you – We send you a link and instructions on how to access your postcard online and make changes online. Simply upload pictures and the new text changes to the fields provided and you are good to go.
Send us the quantity and postal code/walks from the Canada Post web site and we will imprint the postcard shells in black on the back of your postcards and deliver to Canada Post in 2 working days from the day you upload.
Postcard Shell Pricing


3.5" x 9" with perf b/c
10,000 shells $ 1112.00
20,000 shells $ 1514.00
30,000 shells $ 1895.00
40,000 shells $ 2195.00
50,000 shells $ 2495.00

Imprint the backside


with JUST SOLD / JUST LISTED info
(black ink)
500 $ 96
1,000 $ 109
2,000 $ 149
3,000 $ 162
5,000 $ 210
10,000 $ 323
We store the postcard shells for $ 25 /month and each  time you require an imprint for the back you are charged for imprinting, admail handling and postage.
Admail handling: We process all of your Ad-Mail for $ 10 per 1,000 pieces (min $ 25 charge)
Send us your Can Post agreement number and your postal walks and we will do the rest!
---
1,000 Postcard Mailout:
You want to send out 1,000 Postcards to a neighbourhood – (You already purchased your full color postcard shells and they are ready to use)
You simply go online and upload the information for a Just Sold or Just Listed property and you are billed for the following:
IMPRINTING – $ 109.00
ADMAIL HANDLING – $ 25.00
POSTAGE – APPROX $ 90.00 – $ 100 DEPENDING ON YOUR COMPANIES RATE (APPROX 9 – 10 CENTS EACH)
---
3,000 Postcard Mailout:
You want to send out 3,000 Postcards to a neighbourhood – (You already purchased your full color postcard shells and they are ready to use)
You simply go online and upload the information for a Just Sold or Just Listed property and you are billed for the following:
IMPRINTING – $ 162.00
ADMAIL HANDLING – $ 30.00
POSTAGE – APPROX $ 270.00 – $ 300 DEPENDING ON YOUR COMPANIES RATE (APPROX 9 – 10 CENTS EACH)
---
We send out postcards, notepads, flyers and brochures all via unaddressed admail.
Call us today to plan a consistent program for mailing unaddressed admail to your farm area!
*Prices do not include taxes, this program is applicable for Canadian clients only